The story of Izumi Point
By Dave House
In the 1990's I bought the two lots at the top of Old Oak Way and built my home on one of these lots. Because I wanted privacy, I later bought a third lot which was directly below my home and created a Zen Garden there which is now known as Izumi Point, located directly after our property entry gate.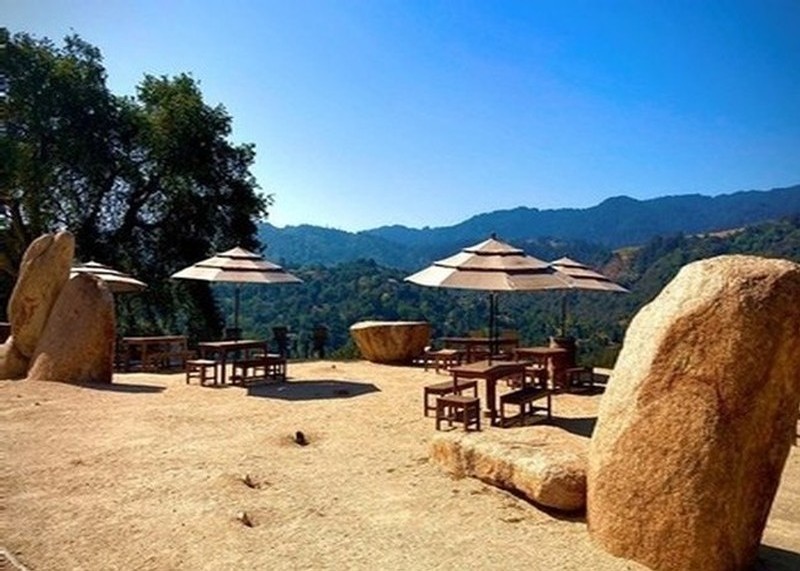 Why is it called Izumi Point? Because it was designed and built by renowned Japanese stone artist, Masatoshi Izumi, who is famous in Japan for his great works in stone. After we convinced Izumi to travel to California, he fell in love with the site that was later named after him.
The stones are Japanese Mannari Stones selected by Izumi from the inland Sea of Japan, transported to his studio and crafted into what you see today. They were then shipped from Japan in four shipping containers and installed under Izumi's personal direction using two 50-ton cranes in the mid 2000's.

PBS documentary on Masatoshi Izumi

A film crew traveled from Japan and filmed the installation as part of a documentary about the artist.
At the completion of the installation Izumi performed a traditional Japanese ceremony, the "Washing of the Stones", after which the artist, my family and I raked the area around the stones using new rakes tied with bright red ribbons.
Masatoshi Izumi named the installation "Earth Meets Sky", consisting of three stone installations. The first stones, closest to the property entry gate, were named by Izumi "Welcome" and are the Guardian Stones. They guard the gate and welcome our guests. The middle stone, the one furthest from the street, is named "Source of Light". It shines it's light towards the sky. The third stone installation, the farthest from the entry gate, is named "Balance". It represents family and I love the photos of my grandchildren sitting next to me on what I see as a reclining lounge chair. The entire installation weighs in excess of 31 tons.
Besides beautiful and comforting works of stone art, Izumi Point features gorgeous views of the Santa Cruz Mountains and the "Chain of Gold" wine growing region, the home to some of the best wines produced anywhere. It is a wonderful place to sit and relax with a glass of wine.